Want to be part of a winning team in Charlotte this Super Bowl season? Consider yourself drafted to play in the Souper Bowl of Caring, a national movement to address the needs of our neighbors who are struggling with hunger.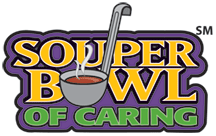 Loaves and Fishes, a local non-profit emergency food pantry program, will be collecting food donations at Myers Park Presbyterian Church on Saturday, February 4th through Monday, February 6th. Additional collection sites will also be available all over the Charlotte area.  In 2015 Loaves and Fishes served 71,799 people in our community, 48% of whom were children.
Think about how many people will gather to watch the big game this Sunday: What if each person celebrating the Super Bowl gave a donation of money or food to those in need? Will Anderson, a local teen who serves on the national youth advisory board for this effort, notes that last year an impressive $960, 000 was raised in North Carolina through the Souper Bowl of Caring– but that the need is even greater.
Let's outdo ourselves this year, Charlotte! Please consider making a donation before heading out to your Super Bowl festivity. Or consider collecting donations from friends and family at your Super Bowl party to drop off at Myers Park Presbyterian Church.
You may learn more about Loaves and Fishes, or make a monetary donation here. For more information about the Souper Bowl of Caring, please visit www.souperbowl.org
LOAVES AND FISHES WILL BE COLLECTING DONATIONS AT MYERS PARK PRESBYTERIAN CHURCH 
(Outreach Center) 1073 Providence Road, Charlotte, NC 28207
SATURDAY 2/4   9am – 4pm
SUNDAY 2/5    9am- 2pm
MONDAY 2/6 drop off at Welcome Center or Outreach Center desk
LOAVES AND FISHES WILL ALSO BE COLLECTING ITEMS AT THE FOLLOWING LOCATIONS over the weekend:
Ada Jenkins Center

Sat 9am-3pm

212 Gamble St., Davidson, NC 28036
Arboretum Shopping Center

Sat 9am-3pm; Sun 12:30pm-2:30pm

corner of Providence Rd & Hwy 51
Bethel Presbyterian Church

19920 Bethel Church Rd., Cornelius, NC 28031
Huntersville United Methodist Church

14005 Stumptown Rd., Huntersville, NC 28078
Mulberry Presbyterian Church

Sat 9am-3pm; Sun 12:30pm-2:30pm

5600 Tuckaseegee Rd., Charlotte, 28208
Philadelphia Presbyterian Church

Sat 9am-3pm; Sun 12:30pm-2:30pm

11501 Bain School Rd., Mint Hill, NC 28227
Sharon Presbyterian Church

Sat 9am-3pm; Sun 12:30pm-2:30pm

5201 Sharon Rd., Clt 28210
South Mecklenburg Presbyterian Church

Sat 9am-3pm; Sun 12:30pm-2:30pm

8601 Bryant Farms Rd., Clt 28277
Town Center Plaza Sat 9-3; Sun 12:30-2:30

8600 University City Blvd, across from UNCC
Trinity Presbyterian Church

Sat 9am-3pm; Sun 12:30pm-2:30pm

3115 Providence Rd, Clt 28211
Good Shepherd Methodist

13110 Moss Rd Clt. NC 28273
Troop 39 Matthews Methodist

801 S. Trade St. Matthews, NC 28105